ZEELAND, Mich.–August, 2020–Western Reflections, an ODL company, a leading building products supplier of decorative and clear doorglass and entry treatments, introduces Affluent, the latest addition to their modern style doorglass.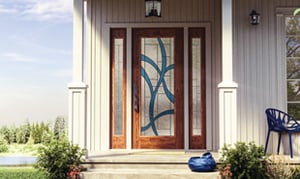 Affluent has a medium privacy rating and uses beautiful steel blue swirl glass flowing top to bottom in this design. With its organic flow lines, baroque glass complements the soft curves of the steel blue swirl. This is all set in place with platinum nickel caming, which offers a nice glint of light similar to the reflection of light on water. Although this is a modern design, it's simple enough to pair well with any type of home exterior, from brick and stone to siding and shiplap.
"There's something really calming about how water flows naturally that we wanted to reflect in Affluent's design," says Katie Sponseller, Corporate Decorative Glass Designer at ODL, Inc. "I love knowing that people will be bringing these designs into their homes and will appreciate the design as much as I do."
Affluent is available now in four different frames including ZEEL®, Western Reflections' most versatile doorglass frame, and the Severe Weather frame for hurricane-rated doors.It is offered in a range of popular doorlite and sidelite sizes. For more information, and to view more about this decorative doorglass, visit western-reflections.com/affluent.
Media Contact: Amy Post, National Marketing Manager, ODL Pro Channel